Photo of Participants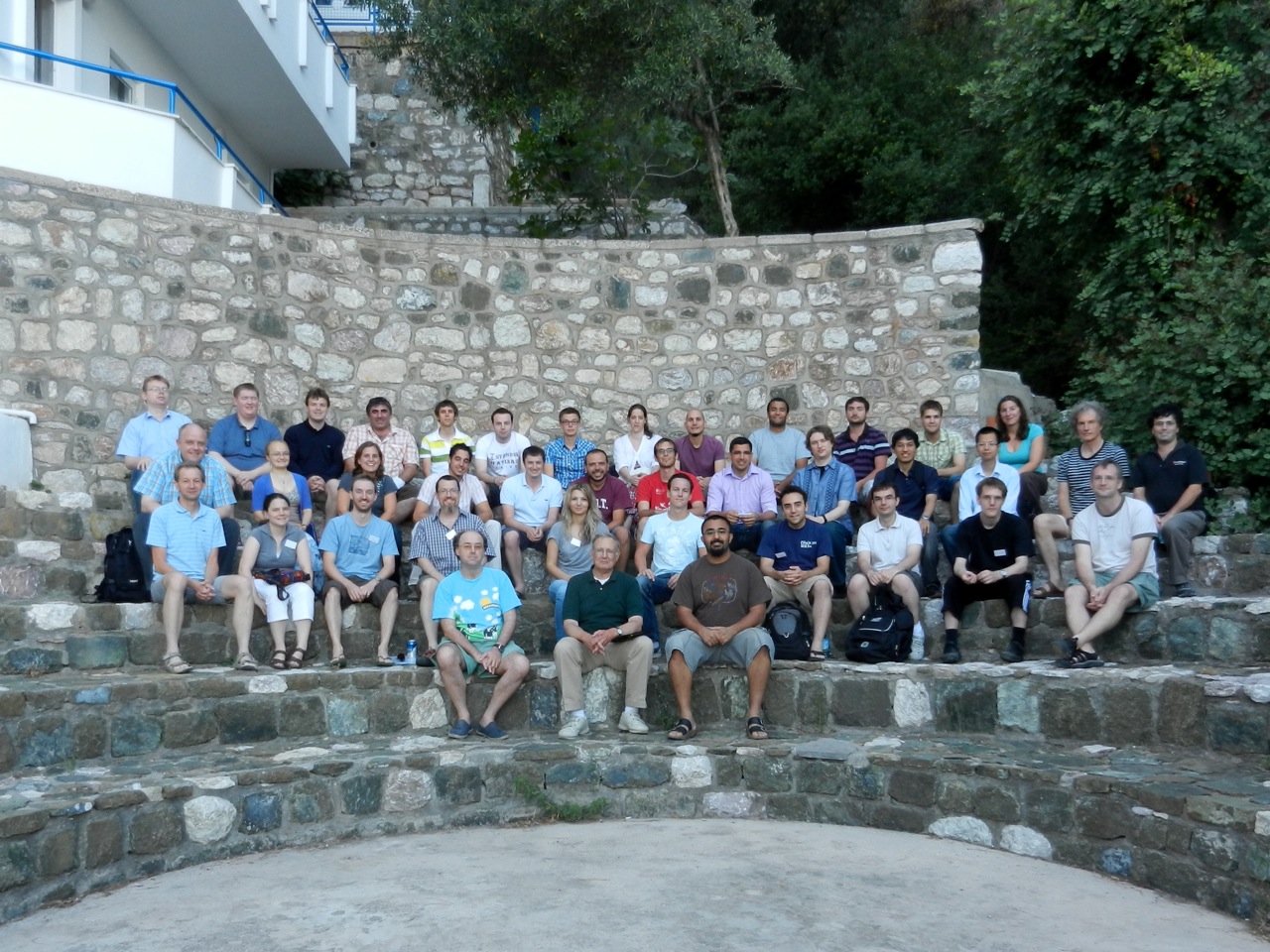 Last row: Martin Villwock, Tomasz Górski, David Rijsman, David Allouche, Umut Öztok, Serdar Kadioglu, Jean-Baptiste Mairy, Florence Massen, Florian Richoux, Fawzi Bessaïh, David Fournier, Tero Laitinen, Caroline Maillet.
Third row: Christian Schulte, Elena Kelareva, Luisa Núñez, Andres Jimenez Ramirez, Dario Campagna, Francesco Santini, Roberto Castañeda Lozano, Walid Trabelsi, Erin Delisle, Fredy Cuenca, Jun He, Michel Rueher, Reuven Naveh.
Second row: Pierre Flener, Kathryn Francis, Christopher Mears, Joseph Scott, Anastasia Paparrizou, Christian Drescher, David Bergman, Andre Cire, Karl Sundequist Blomdahl, Laurent Michel.
Front row: Ian Gent, John Hooker, Özgür Akgün.
Missing: Marco Correia.
Thanks to Joseph Scott for the photo.
List of Participants
| Name | Affiliation |
| --- | --- |
| Özgür Akgün | University of St Andrews |
| David Allouche | INRA |
| David Bergman | Carnegie Mellon University |
| Fawzi Bessaïh | Université d'Avignon et des Pays de Vaucluse |
| Dario Campagna | Dept. of Mathematic and Computer Science, University of Perugia |
| Roberto Castañeda Lozano | SICS (Swedish Institute of Computer Science) |
| Andre Augusto Cire | Tepper School of Business, Carnegie Mellon University |
| Marco Correia | CENTRIA |
| Fredy Cuenca | Universidad de Lima |
| Erin Delisle | University of Toronto |
| Christian Drescher | NICTA and University of New South Wales, Australia |
| David Fournier | INRIA Rocquencourt - CONTRAINTES Team |
| Kathryn Glenn Francis | University of Melbourne |
| Tomasz Ludwik Górski | Quintiq Applications BV |
| Jun He | Uppsala University |
| Andres Jimenez Ramirez | University of Seville, Computer Languages and Systems Department |
| Serdar Kadioglu | Brown University |
| Elena Kelareva | Australian National University / National ICT Australia |
| Tero Olavi Laitinen | Aalto University, Department of Information and Computer Science |
| Caroline Maillet | Astrium |
| Jean-Baptiste Mairy | Université catholique de Louvain |
| Florence Alice Marie Massen | Université catholique de Louvain |
| Christopher Mears | Monash University |
| Reuven Naveh | Cadence Design (Israel) ii Ltd (Israel-Rosh Haayin) |
| Anastasia Paparrizou | University of Western Macedonia |
| Luisa Parody Núñez | University of Seville, Computer Languages and Systems Department |
| Florian Richoux | Japanese-French Laboratory for Informatics, CNRS - University of |
| David Rijsman | Quintiq |
| Francesco Santini | Dipartimento di Matematica e Informatica, Universita di Perugia |
| Joseph Scott | Uppsala Universitet |
| Karl Sundequist Blomdahl | Uppsala University |
| Walid Trabelsi | Cork Constraint Computation Centre (4C) |
| Martin Villwock | Quintiq |
| Umut Öztok | Sabancı University |